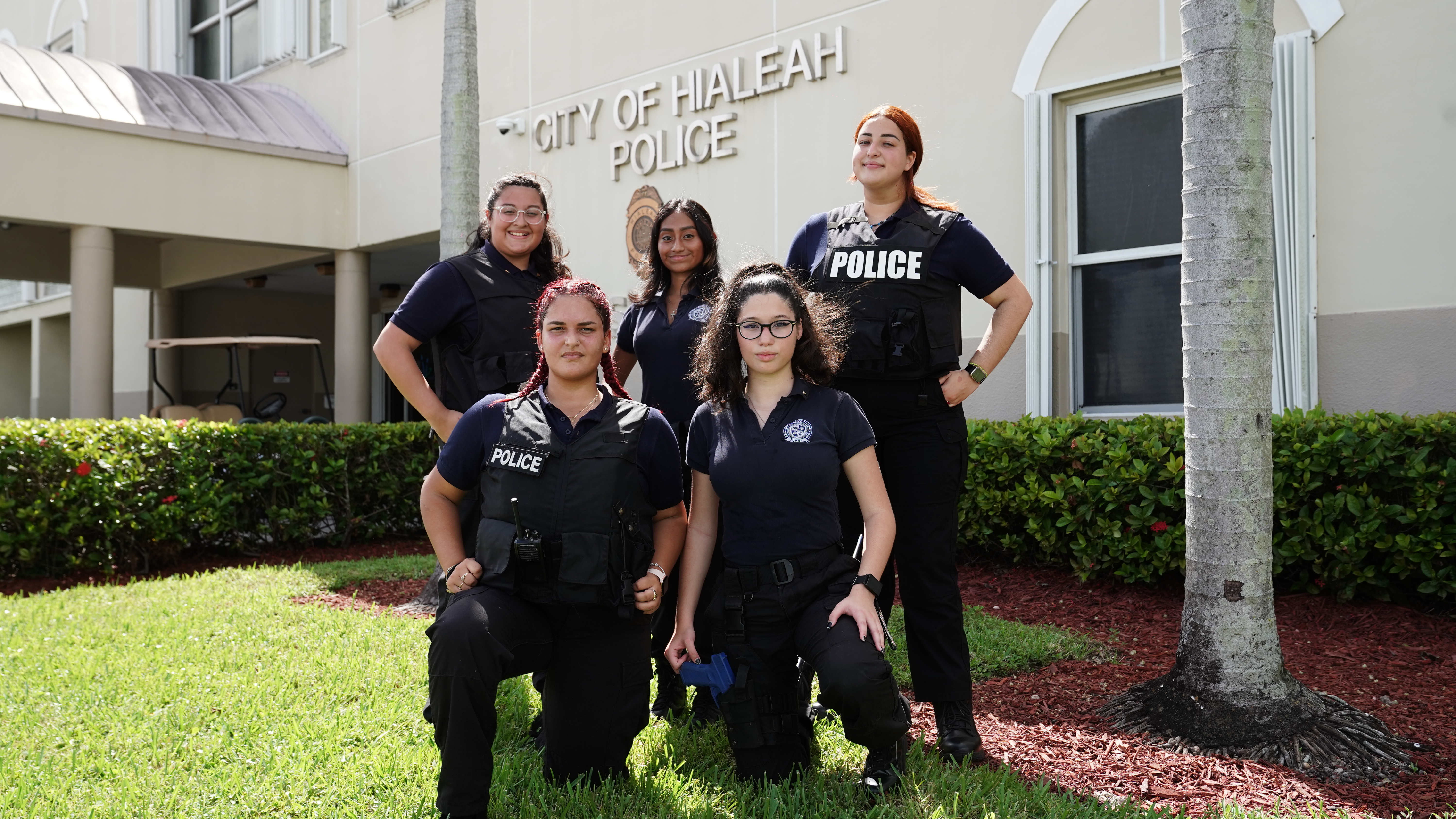 The City of Hialeah Educational Academy is fortunate enough to work closely with the City of Hialeah Police Department. Because of this unity, the EA Police Academy attendees will have the luxury of attending various field trips (including Dade County Jail, City of Hialeah's City Hall, the City of Hialeah Police Department and Crime Lab, etc.) and participate in many extracurricular events within the Hialeah community.


This is a school built upon certain outstanding principles of honor and respect. When attending HEA's Police Academy it should be viewed as a microcosm of the real Police Academy. Students, as well as parents, need to understand that when choosing this certain field, students will be held accountable for not only serving the honor code but must also convey the professionalism in their appearance and in the work they submit.


"PT" Physical Training: The students in the academy will partake in physical training at least once a week. This physical training might consist of push-ups, running, or some sort of physical activity as a motivational tool. This physical training will not only serve in boosting morale but in establishing solid team building blocks and as part of the course curriculum. Their individual semester grades in their respective CJ classes will derive a percentage from their participation in physical training. Students will be exempt from PT participation ONLY upon receipt of a certified medical professional's note to be held in their school file. *Notes from parents/guardians are not sufficient to excuse them from PT activities.*
M/J Career Exploration of Criminal Justice Occupations 8400310 7th grade
The purpose of this course is to give students initial exposure to the skills and attitudes associated with a broad range of occupations relating to careers in health, including job requirements and tasks performed, to assist students in making informed decisions regarding their future academic and occupational goals.
Criminal Justice Operations I 891801001 9th grade
This course is to introduce the student to the history, goals, and career opportunities in the Criminal Justice Profession. It also covers ethics and professionalism, constitutional and criminal laws, court and trial process, juvenile justice system, and the correctional system. Students will also be instructed on personal, interpersonal, and communication skills as well as demonstrate employability skills.
Criminal Justice Operations II 891802001 10th grade
This course is to introduce the student to the characteristics and procedures of patrol, complete written reports, and crime prevention programs. Students will also describe guidelines for Use-of-Force; perform CPR/ first aid techniques, and procedures to protect from Blood-Borne pathogens.


Criminal Justice Operations III 891803001 11th grade
This course is to introduce the student to the crime scene safety, conducting criminal investigations, conducting forensic processing, and complete property control procedures.


Public Service Education-Directed Study 8900410JT 12th grade
The course will focused on the students completing a Miami-Dade College
Parking Enforcement and Public Service Aide certification.
PSA: Public Service Aide Certification
Police Service Aides (PSAs) are primarily assigned to duties within the police station. PSAs will be responsible for all aspects of the care and processing from intake to discharge of persons taken into custody. This includes, but is not limited to, using lockup and detention area computer software; routine inspections for cleanliness, headcount and contraband; finger and palm printing; processing of court documents such as warrants, inventory and security of prisoner personal property, rostering, prisoner intake screening including the evaluation of medical and mental conditions and requirements; appearance and testimony in various courts; interact with arresting officers of this and other agencies; interact with supervisors; confirm warrants with other agencies. The PSAs will process complaints, take reports in compliance with field based reporting procedures, operate various computer software and hardware; process and file documents including the confirmation of warrants; operate LEIN devices; retrieve and process records of all types; answer and direct incoming telephone calls; make voice broadcasts over police radio equipment; intake, inventory, process and release evidence; receive and process motor vehicle accident reports; perform vehicle inspections, impoundments, and inventories. PSAs will perform other related duties as assigned.